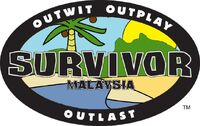 "Anything is Possible"

A divide in one tribe is clear when arguments arise. And for the other, prosperous times may not be as enjoyable as they thought.
Season
Survivor: Malaysia
Author
User:Dynomite!
Episode Number
3/13
Date Uploaded
April 17, 2012 - Present
Episode Chronology
Previous
Sandbox
Next
Madness in Malaysia
Survivor: Malaysia
This is episode 3 of Survivor: Malaysia .
This episode is titled "Anything is Possible"
This episode chronicles Days 7-9.
Challenges
Reward Challenge - Breaching with Brain, not Braun
For this reward challenge, each tribe is faced with three large blockades, all which must be somehow opened and traveled through. The first door is shut tight with many rope knots, which, once untied, will open the door. The second blockade is holstered closed by several locks. The keys to those locks are fastened to four puzzle stations. Each tribe must solve four puzzles to get all the keys the need. The puzzles are different movable rings around each other, that, when positioned right, create an image. Once they get through the second door, the third blockade is fastened with locks as well. To get the keys, each tribe must use a grappling hook over the blockade and hit the key rings in the sand. First tribe to get through all three blockades wins reward.
Winner: Lautan
Reward: Blankets, Pillows, & other Survivor delicacies
Immunity Challenge - Sumivor
For this immunity challenge, each tribe faces off in sumo-survivor battles. Each contestant will try to score a point for their tribe by beating an opposing player from the other tribe in a sumo battle. To win, you must use whatever means necessary to throw your opponent out of the ring battleground and into the water. The twist is that each players hands are tied behind their back. First tribe to 6 points wins immunity.
Winner: Tanah
Day Seven
Tanah
In the morning, Nobo woke early to watch the sun. He had been given a second chance, a godsend. He wanted to make sure he soaked in all of the fun while he was still here.
"

This experience is something I would never expect to find myself in, because after so many attempts and so many dreams about it, I started to doubt it would ever happen. And to be almost removed because of an injury? I have got to keep my head up. I have to show my tribe I am still here to play.

"

–Nobo

He was joined by Sonya, who talked about their personal lives for a good portion of the morning, until Nobo decided to get up and walk down the beach. He told Sonya he merely wanted to stretch, but in reality, he was pretty sure he knew where the idol would be. Down the beach, there is an odd tree, sticking up out of a small crater in the ground. He got to the tree, and started to search.
"

Nobo took me to this tree. I was so confused, and then he started to put his hands down different holes in the tree. And then he pulled out nothing but a few twigs and wet leaves. So then he goes to the other side. And he reaches up into the top of the tree... AND HE PULLS THE IDOL OUT!

"

–Sonya

Nobo, alongside Sonya, has discovered the hidden immunty idol at the Tanah camp.
"

This is one loopy week. First, I'm almost evacuated. Then, just like that, I become the most powerful player in the game. I'm seriously starting to believe that anything is possible.

"

–Nobo
Nobo and Sonya both agreed that nobody would have to find out unless they required a trust agreement of some sort, and they left it at that.
Meanwhile, Samuel and Alice talked about trying to get Dante to join their allegiance. The two knew that they were in the minority. Samuel, however, knew that he was not in trouble, because he was definitely a key asset to the tribe's success in challenges.
"

It's apparent that, unless I do something really stupid, I'm safe until the merge. I worry about Alice, because she is probably on the chopping block should we have to go to tribal. Fingers crossed!

"

–Samuel

The two confront Dante in an attempt to persuade him to join an alliance.
Samuel: Dante, who are you really close with out here?
Dante: Well, I was close with Betty. Why?
Alice: Would you consider joining an alliance with us?
Dante: Do you mean just the three of us? Or somebody else...
Alice: It's just the three of us. We need to get a solid amount of numbers out here. Plus, having both of you makes us stronger, because you're both solid competitors.
Samuel: Not to mention that as a welcoming gift, it is your decision who our votes go to the next time we have to go to tribal.
Dante: I want AJ gone. If you can help me accomplish that, then I'm in it for the long haul.
Samuel: Done. You won't regret this.
"

There is no way we're writing AJ's name down. Not only is she strong, she is another free vote. But, we'll deal with that issue when it rings the doorbell.

"

–Samuel

Steve and Eli went out fishing, catching many fish once again.
Lautan
At the Lautan camp, tensions were high, despite the reward challenge win.
"

This tribe is in two parts. Unfortunately, it's Elena, Tyler, Sam, and Adam versus Sarah Cassidy, Temera, and myself. I have declared myself to be a part of this alliance pending yesterday's unforseen acts. Elena has ruptured the peace within the tribe and split us apart. So, it's a battle to the death.

"

–B

Temera and Sarah verbally attacked Elena, because they didn't know about her plan to get rid of Alex.
Temera: How could you!? She had no reasons to go! What did she do to you?
Elena: What did you expect me to do? Lay down and die quietly? I fought for myself, and you can't understand that!
Sarah: I thought I could trust you! Clearly that's not the case.
Elena:You targeted me. What else was I supposed to do? I may have messed up in the challenge but you don't know who you're messing with. I will not leave this island so easily. You're going to have to try harder to get me out.
Elena walked off, and Beverly followed her to get some answers. Beverly calmy asked why she had to vote off Alex, and she told him that it was just to get the target off of her back. Beverly, who completely understood, pretended to be upset, and walked away.
"

I can't blame her. I would have done the same thing. But it's better if she doesn't know that.

"

–B

Tyler tried to comfort Elena, who was clearly upset, by telling her that her newly found alliance is still strong. The four were tight, and they would stay together.
"

Elena needs to keep it together. We have to be a strong four, or else we'll all get picked off. Unfortunately, they also have a strong four. We'll have to see what happens, but I know they'll be gunning for Elena, which is good news for me at least.

"

–Tyler
Day Eight
Tanah
"

Last night was a rough night. It was freezing cold, and even when we all formed a close snuggle fest, I only managed to doze off for a few minutes. It was the worst night out here.

"

–AJ

With the tribe waking from a horrible night of freezing temperature, each castaways looked for different ways to entertain themselves. Most of them looked for bananas and coconuts, but AJ saw it as a good time to get lost sleep, because it was warmer. Most of the tribe didn't like this, as it was supposed to be a group effort.
"

There she goes again. Doing something that just bugs me and it rubs me the wrong way. Of course... But, I can't do anything about it. Just gotta keep my head on straight and ignore her.

"

–Dante

Steve continued to catch fish, with comparable skills to the former Survivor fish catching master, Ozzy.
"

This is so easy, and it is making me so happy. I am completely invincible. I can't be voted out, because I'm so damn important to the tribe!

"

–Steve
Lautan
Lautan enjoyed their previous reward, as they were kept warm during the cold night.
"

Those blankets are valuable. We were so thankful for them when it mattered.

"

–B

However, despite the comfort, it was still a divided tribe. Tyler wondered how the next tribal they would face would go down.
"

This tribe is so messed up, and it's a pivotal point. I'd like to stay with Elena, but I don't want to put myself in a position of being in the minority. We'll try to convince B to swap, but that may not work. I'm not sure how this could play out, but it scares me.

"

–Tyler

B was in a conversation with Cassidy, who unsure of what happened the previous tribal.
B explained that Elena tricked him, and told him that it was the tribe's decision to vote Cassidy out. Cassidy figured that something like that happened.
"

Elena is a smart girl. I respect that, but I can't trust her. She definitely needs to go. She is a threat to all of us, and who really knows what she is capable of.

"

–Cassidy

Sam and Adam conversed about sticking together for the long run.
"

I have this strategy that I've been using, and it worked. But now I may have to put it on hold for a tribal or two. I realize that I need to stick with Sam, Tyler, and Elena for a while to get further. This tribal council, I'm just going to vote with them. But, then it's back to my strategy for sure.

"

–Adam
Day Nine
Refer to Immunity Challenge for Results.

Immunity Challenge Information
Immunity Challenge Match-ups

Tanah

Versus

Lautan

Winner
Dante
Adam
Tanah
Alice
Sarah
Lautan
Sonya
Elena
Lautan
AJ
Temera
Tanah
Steve
Sam
Tanah
Eli
Beverly
Lautan
Nobo
Tyler
Lautan
Samuel
Adam
Tanah
Dante
Beverly
Tanah
AJ
Elena
Tanah
Tanah takes the early lead with Dante quickly shouldering Adam over the edge. Sarah evens it up when she uses her back to shrug Alice off of the floor. Lautan wins again with a long battle between Elena and Sonya. AJ ties it up again when she defeats Temera. Steve and Sam duke it out, but it was Steve who came out on top when he moved out of the way from a shoulder charge, which sent Sam straight into the water. Beverly then muscled Eli, tying it up once agian. It was now 3-3. Nobo put up little fight against Tyler, who defeated him easily. It was then Tanah who won the next three battles to grant them immunity.
Tanah
"

That win felt good, and I think I showed the tribe just how strong I am.

"

–Dante

Tanah returned to camp, not worrying about anything, from the immunity challenge win.
Lautan
Lautan lost the immunity challenge, and was destined for tribal.
"

This sucks. But, I guess it had to happen sooner or later. Hopefully my alliance comes out on top tonight. It's gonna take some heavy duty convincing on my part.

"

–Elena

Elena immediately talked to B about tribal.
Elena: B, how do you think you'll vote tonight?
Beverly: Temera, Sarah, and Cassidy are for sure writing your name down. I might join them. Do you have a counter proposal?
Elena: Help us vote out Cassidy tonight, and you'll be safe with us. I can guarantee it.
Beverly: Elena, you realize I can't really trust you right?
Elena: I understand that, but please just give it some thought. It will be beneficial to us both.
Beverly: You'll know my decision at tribal.

"

I think he'll do it. He'll probably force the first tie just to make sure we're not messing with him, then hopefully he'll switch.

"

–Elena
"

I know the benefits to switching sides, but I don't trust Elena, not even for a second. I am definitely going to have to think about it.

"

–B

Tyler is worried, however, that the purple rock will come out. He doesn't believe that B will switch, because he is comfortable where he is. He converses with Elena, who tells him to relax and trust her. She told him that everything will go the way they want to.
"

I don't think this tribal will go well. I'm sure that I'm overreacting, but I'm nervous. Oh jeez, this is going to suck.

"

–Tyler

Meanwhile, Temera, Sarah, and Cassidy, along with B, discuss who they will vote for. Temera is worried of a possibility the a hidden immunity idol will surface, and it is critical that they don't risk that happening. They all agree that They will vote for Adam, because it will not be expected.
"

It is nothing personal against Adam, but he will not expect to get votes. Sorry buddy. As long as it's not me, it's okay.

"

–Temera
Tribal Council
Tribal Council 2: Lautan

First Vote (Tie)
Second Vote (Tie)
Rock Drawing
Voted
Against
Voter

Voted
Against

Voter
Contestant
Result

Adam

Temera, Sarah, Cassidy, Beverly

Adam

Temera, Sarah, Tyler

Tyler

Safe

Beverly

Safe

Sam

Safe

Temera

Safe

Cassidy

Elena, Tyler, Sam, Adam

Cassidy

Elena, Beverly, Sam

Elena

Safe

Sarah

Purple Rock

Adam

Safe

Cassidy

Safe

Voted Off:

Sarah Nott
(Henzzy)
Voting Confessionals
"

Please work, please work. PLEASE.

"

–Tyler
"

Let's see what game you're playing Elena. This is your test.

"

–B
"

This is all on you B. C'mon! Help us send Cassidy home.

"

–Sam
"

Adam, you are on the block here. Let's see if it'll scare you enough to switch.

"

–Temera
"

Cassidy, nothing personal.

"

–Elena
"

Adam, I wish I got to know you better, but it's your time to go.

"

–Sarah
"

Out of the eight of us left, what are the odds it'll be me? Very slim, so I'm satisfied.

"

–Adam
"

I need to get past this point. So Adam, it's off with your head.

"

–Cassidy
Voting Confessionals (2nd Vote)
"

Sorry Elena, I just don't see B switching. Good luck Adam.

"

–Tyler
"

You passed Elena, so my vote is yours.

"

–B
"

One of them has to switch, right?

"

–Sam
"

We are strong. We won't budge, mark my words.

"

–Temera
"

B, this is your time right now.

"

–Elena
"

I'm just going to write your name down again. We didn't discuss this very much.

"

–Sarah
Final Words
"

I lost because I have bad luck. Of course I'll draw the purple rock. Well, at least I had fun. This was the most intense moment of my life!

"

–Sarah
Still in the Running
Tanah

Dante

Alice

Betty

Sonya

AJ

Steve

Nobo

Samuel

Eli

Lautan

Tyler

Beverly

Sam

Temera

Elena

Sarah

Adam

Alex

Cassidy
Next Time on Survivor...
More madness and chaos at Lautan, while a member of Tanah has a moment of realization.