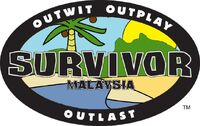 Survivor: Malaysia
This is episode 5 of Survivor: Malaysia .
This episode is titled "Days and Nights"
This episode chronicles Days 13-15.
Challenges
Reward Challenge - New Friends, Old Foes
When the tribes arrived at the challenge station, they were greeted by Probst. Jeff then signaled them to write down on their own piece of parchment the order of importance of each person in their tribe. Once they selected those, and the correct order was mathematically created (by using algorithms to determine the most popular people for each position... i.e. the way I say it is!), the most important members of the tribe were instructed to step down and go to the opposing tribe mats. They were then instructed to pick the tribes. Once tribes were reselected, each tribe was sent to their camps.
Winner: None
Reward: None
Immunity Challenge - Dig This and Dig That!
For today's immunity challenge, each tribe must send out one person at a time through an obstacle course, traversing under a wall, which you will have to dig the sand beneath it to pass, and under a crawl pit, filled with mud. Once across, each player, must take a ball and try to make it into the basket. If they miss, they must go back and wait for their next turn. First tribe to make four buckets wins immunity.
Winner: Lautan
Day Thirteen
New Tribes
Order of Importance (Tanah) - Steve, Samuel, Eli, Sonya, Nobo, Dante, Alice, AJ
Order of importance (Lautan) - Sam, Beverly, Elena, Adam, Tyler, Temera
Steve and Sam approached Lautan and Tanah mats, respectively. Steve opted to chose first.
RULES- You have to pick somebody from the opposing (original) tribe (if possible... and must be donw without consulting any new teammates).
Steve --> Beverly --> Eli --> Elena --> Nobo --> Tyler --> Sonya
Sam --> Samuel --> Adam --> Dante --> Temera --> Alice --> AJ
Tanah

Sam

Samuel

Adam

Dante

Temera

Alice

AJ

Lautan

Steve

Beverly

Eli

Elena

Nobo

Tyler

Sonya
Tanah
The new Tanah tribe greeted and welcomed the new tribe to their camp, which was not as good a camp as Lautan's was.
"

Their camp is definitely not up to par with our old one. But, this is my camp now, so I'll just have to work to improve it. We're in the minority anyway so it couldn't hurt.

"

–Sam

As they were discussing how the tribe swap turned out, Temera and Dante exchanged a few words that struck Temera as odd. Dante quietly confessed to her that he wished that AJ would have been swapped to the other tribe.
"

So I guess Tanah wasn't as happy as they seemed. I guess AJ is pretty much on the bottom. I don't know how their old tribal alliance went, but I already see a hole.

"

–Temera

Temera talked in secret with Sam and Adam, who, after Temera correctly answered another of Adam's riddle, agreed that they omit old alliances with the other old Tanah members and stick together to form a new Tanah alliance.
"

If I make it to the merge and Elena and Nobo are there as well, Temera can kiss her ass goodbye. But, I have to make it their first. She is my ticket. She definitely has the brains, so I'll let her take the driver's seat, and see if she's got any tricks up her sleeves.

"

–Sam
Lautan
The four new members of Lautan quickly greeted the others with hugs and greetings. Nobo and Sonya were thrilled to be together, and along with Steve and Eli, it seemed like a strong four.
"

This is great. A new tribe, but we still have majority numbers. Unfortunately, we got split up big time. We have to think about possibly throwing a challenge, for the sake of the people over at Tanah.

"

–Nobo
"

I'm still on the same tribe, but now we're outnumbered by the four new members. This doesn't seem like it's going to be fun. I was just starting to get some more control.

"

–Tyler
"

The swap was interesting, it was definitely funny how the tribes turned out. Most of our strong alliance members stayed here. So, we'll see if that helps our chances.

"

–B

As they continued to acquaint themselves, Eli and Steve felt helpless as they no longer had the fishing equipment to provide for their tribe.
"

I feel a lot more vulnerable without that spear. Eli does too. We have to start dealing out more strategy to our alliance and helping them out.

"

–Steve
Day Fourteen
Tanah
"

I was thinking about the swap. We may have something. AJ was last on the order of importance. She was apparently not well liked. Well, I guess that means I just found my new best friend.

"

–Temera

Temera relayed her idea to Adam, who agreed that it could be a hole. Temera started, slowly but surely, getting closer to AJ. This however, did not go unnoticed by Dante.
Dante realized what they were attempting, and was truly nervous. He knew he could have made a mistake in separating himself from her.
"

I hate AJ. Like, I really hate her. But she needs to stay loyal. We have to make sure that she stays with us.

"

–Dante
Lautan
Nobo awoke from sleep, and got up to an awkwardly quiet morning. It seemed as if nobody was conversing, strategizing, or even acknowledging each other. He asked Elena what was going on. Elena also noticed, but they concluded that it was just that type of morning.
Later on, B made himself useful by vastly improving the shelter. He added support, and more bushels on the top to keep out rain. Nobo was impressed.
"

B is really trying to show us that he is worth keeping. They know we are a tight four, so it's definitely a good thing to have them bending over backwards to keep us happy. We can't save all of them though.

"

–Nobo

Sonya was still worried about the idol dilemma, but forgot about it quickly as she was tasked with keeping the fire lit and going strong.
"

What is going on today? I've never had a day like this. No strategizing. Minimal conversing. This is odd.

"

–Eli
Day Fifteen
Refer to Immunity Challenge for Results.

Immunity Challenge Information
First to be sent out for Lautan was the big and burly Beverly, who created a hole under the wall that everybody could fit through. Tanah tried the approach of sending out Alice, whose hole was quite petite, only big enough for her to get through. This gave Lautan a big enough advantage to get an early lead, and they kept it. Exceptional shooting by Tyler gave them an even bigger advantage, and Tanah couldn't catch up. Lautan won immunity.
Tanah
Tanah was quick to point fingers as an angry Samuel pouted quietly, and blame was tossed around from person to person, until Dante ushered everybody to relax and refrain, because it's in the past.
"

Unfortunately, we lost. But, I think tonight is a clear vote for Sam. He is strong, and we want to get rid of that now. Who cares if we lose immunity again. Then it will just be Adam, and then Temera. No harm done on our part.

"

–Alice

Sam, who was desperate to stay, urged Temera to try to sway AJ.
Temera: Hey, how are you voting tonight? I want to stick with you.
AJ: I don't know, are you trying to propose an offer?
Temera: Well we will most certainly value you're vote moreso than the others.
AJ: Yeah, they actually uhh... put me in the least important position thingy!
Temera: Yeah, and I think you'll get farther with us.
AJ: Okay, you're vote is mine!

Temera instructed AJ to vote for Samuel, who was the strongest out of the three. Before heading to tribal, Dante approached AJ.
Dante: Hey, I know we've had our differences, but we're sticking together right?
AJ: Why do you hate me?
Dante: I don't, it's just that you and me don't mesh well. I'm willing to put that to the side. Vote for Same tonight.
AJ: Ummm... okay, I guess so.
Dante: You sound unsure.
AJ: No just let me process that, I'll put down that name.

They then proceeded to tribal.
Lautan
"

It feels good to be guaranteed three more days. I really haven't felt this vulnerable, even though I'm sure my name has been tossed around before. I can concentrate more on improving camp life, which could prove my worth.

"

–B
The Lautan tribe started to speak up, which was a delightful change from yesterday's dreary quiet day.
Tribal Council
Tribal Council 5: Tanah

Voted
Against
Voter

Sam

Samuel, Dante, Alice

Samuel

Sam, Temera, Adam, AJ

Voted Off:

Samuel
(SurvivorHuey)
Voting Confessionals
"

I don't know if you know you're on the block tonight, but this is a revolution.

"

–Sam
"

We got the same name, but that's about it. Sorry buddy.

"

–Samuel
"

The riddler... has SPOKEN. *giggles*

"

–Adam
"

You seem cool, but you gotta go. You're strong.

"

–Dante
"

Boy you're muscular, but that doesn't mean I have to keep you.

"

–Temera
"

You are so attractive, it's killing me. But, it's a game. Call me after all this is over!

"

–Alice
"

I'm sorry, but you put me on the bottom of the important list, so this is payback.

"

–AJ
Final Words
"

I'm so confused. I thought this was an easy vote. I guess Survivor isn't for me. But, I met a great girl, and she'll always be a friend to me. Good luck Alice, I'm rooting for you!

"

–Samuel
Still in the Running
Tanah

Dante

Alice

Betty

Sonya

AJ

Steve

Nobo

Samuel

Eli

Lautan

Tyler

Beverly

Sam

Temera

Elena

Sarah

Adam

Alex

Cassidy
Next Time on Survivor...
With an uprising in Tanah, bargains are offered, but are they accepted?