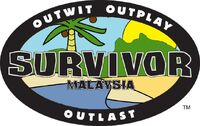 "Heavy Tides"

Five remain. All members of the original Tanah tribe. Only one can win. Who will crowned the Sole Survivor?!
Season
Survivor: Malaysia
Author
Dynomite
Episode Number
13/13
Date Uploaded
April 17, 2012 - Present
Episode Chronology
Previous
Is This a Pirate Ship
Next
Simple As Pie (next season)
Survivor: Malaysia
This is the season finale of Survivor: Malaysia .
This episode is titled "Heavy Tides"
This episode chronicles Days 37-39.
About The Final Five
Alice Badder
Alice Badder, whom at the start, used her charm to get in tight with Samuel, the big physical threat. As a big fan of the show, she planned to use big moves to get her further. She managed to make it to the merge by swapping alliances once the tribe switch occurred, and she was kept safe by getting on the good side of both alliances. Acting as an informant to Nobo, she was constantly spared. She has shown several times that she knows she is a fan of the show, and through hard strategizing, and keeping quiet, she has made it to the final five.
Sonya Jewls
Sonya Jewls, the nice girl. Sonya aligned early with Nobo on the Tanah alliance, and followed his every move without question. Some may call it coattail riding, but Sonya made the decision to follow Nobo because she was admittedly realizes his decisions were very smart. She has a tough time lying to friends, but through mental toughness, she was able to overcome that and make it to the final five by keeping secrets.
Steve Sixt
Steve Sixt started on the Tanah tribe as an immediate alliance member alongside Sonya, Nobo, and Eli. He garnered a tight friendship with Eli, and the two became an inseparable duo. They became incredibly useful around camp as both were hard workers and could catch fish like nobody's business. Steve has used his intelligence to gain the advantage against the Lautan alliance after the merge, and because of him, the final five consists of all Tanah members. Since then, he has made several attempts to oust who he believes to be his main competition- Nobo. After each failure, he realized that he could still use Nobo's help in getting rid of Elena and Sam. When Elena tried to get rid of Nobo, Steve rejoined forces with Nobo to severely blindside her. As a huge competitor, both mentally and physically, Steve has what it takes to win.
Nobo Smith
Nobo, the extremely savvy nineteen year old, is considered now to be one of the wittiest players. Early on, he helped to start an alliance of four that still exists among the final five. His strength comes from his determination after a cut on his foot nearly took him out of the game early on. Additionally, he managed to find both hidden immunity idols, and used one to regain numbers after the merge. Although he took a risk by giving the other idol to Elena as collateral in exchange for her trust, it paid off when she gave it back as a sign of respect as she was blindsided. Nobo has proved that age doesn't matter, and intelligence can be found in people of all ages. With one idol left that nobody knows about, and several people gunning for him, can he survive two more tribals, or will he be cast out and become one of the final jury members?
Eli Thadrick
Eli, the caring father figure of the Tanah tribe. Despite his age, he formed an unlikely alliance with Steve, and was among the Tanah four. He, alongside Steve, was able to prove his worth around camp by becoming an invaluable part of the hunting, and gathering. He followed Steve in most situations, but was by no means a mindless player. He led by example in both honor and integrity, trying his hardest to do what was best for the tribe. Now, as the end draws near, Eli is seeing the bigger picture. The million dollar prize is within his grasp, so will he be able to get a grip and start playing dirty? Or will he be targeted as a threat for being one of the most likable people this season?
Challenges
Immunity Challenge #1 - All Out
'For this individual immunity challenge, the five remaining castaways must race back and forth from two stations across the beach, each time going up a steep ramp (one at each station)with a knotted rope. At the top of the ramp are flags (five on each side) that must be collected in order to advance pass the gates. The gates are located on the top of the ramp on the side where you retrieved your ninth flag (that way, once you get the tenth, you must race back one last time). Then you must put the ten flags in the holder which releases the latch that holds the door. Climb through the door, over the rope bridge, and it will take you to the ocean. There is a buoy about 50 feet out that holds a much larger flag with a key attached. Take the flag (and key) back to the start (in between two ramps) and dig in the middle. There is a locked box that will unlock when the key is used. Open the box and take out the axe. Take the axe back out to the buoy, and snap the rope that holds your flag up. The first person to raise their flag wins immunity.
'Winner:
Immunity Challenge #2 - All In
'For this individual immunity challenge, the challenge is simple. Use concentration, determination, patience, and willpower to hold onto the large pole with everything you can give. The only rule is you may not hold onto the top of the pole. Every five feet is a divot that is equivalent to half the size of your biggest toe, so each pole is custom made for each castaway. Last individual holding onto the pole wins final immunity and a guaranteed spot in the final three.
'Winner:
Night Thirty Six
As the tribe returned to camp, only Alice was stunned at the outcome.
"

Wow. That was crazy. We thought we had that tribal in the bag. That was unexpected.

"

–Alice

She was not upset over it, but she wanted to know what happened. When she asked the rest of the tribe, they merely said they didn't have a clue, and just agreed to all vote for Elena because she was telling everybody different stories.
"

This is the most amazing tribal ever. I got rid of one of the biggest competitors, and all the while, I got my idol back! And nobody knows! Everybody believes Elena left with it! She was so smooth when she quickly put it in my pocket. Ahhh that was priceless. Now five Tanah members are left. That's cause for celebration!

"

–Nobo

As they all congratulate each other for being the true Tanah members, and ousting all other Lautan's, Alice felt part of the group, if only for a mere moment, which, in retrospect, made her feel normal.
"

This game really brings you down to earth, and you realize how small you are compared to the world. I have been so sheltered and this is truly eye-opening. I am excited to get this game finished and leave on a good note.

"

–Alice

Steve and Eli were secretly planning, once again, to get rid of Nobo. They both believed that Elena had left with the idol, so considered Nobo as vulnerable as anybody.
"

I guess getting rid of Elena was almost as good as getting rid of Nobo. It got rid of his armor, and now he's bare and weak. We have to hit him when he's down. And this time, we'll make sure he doesn't get back up.

"

–Steve
Day Thirty Seven
Refer to Immunity Challenge for Results.
Individual Immunity Challenge #1 Information
For the challenge, it was a barn burner as Nobo and Steve battled it out for the win. They were seamlessly overcoming every obstacle. The steep ramps were too much for Eli and Alice, but Nobo and Steve breezed through them. It was the swimming where Steve truly took command. His speed in the water was key as he brought the flag back before Nobo could, and raced back to the start, where he dug his heart out, unlocked the box and grabbed the axe. Nobo followed behind, but had a chance to catch up. Steve dropped the axe in deep water. Nobo was caught up when he grabbed it, and it was a race to the finish. They almost arrived at identical times, but it was Steve's longer reach that allowed him to cut the rope first, granting him immunity.
Kebakaran
Early in the day, the tribe was surprised to see tree mail for an immunity challenge and tribal to happen once again.
"

When you have two tribals back to back in two days, you know you're so close to the end. It's exhilarating!

"

–Sonya

At the challenge, Steve won.
"

Guaranteed final four? This is excellent. I'm in good shape. And if I can convince Alice to vote for Nobo, this game is mine to lose.

"

–Steve

Alice, however, was already planning on voting for Nobo. She too, was aware of his power, and she wasn't comfortable with it. Eli and Alice met up simultaneously with the same purpose; convince the other to vote for Nobo.

Nobo was also aware of the lack of strategy he was being told.
"

Well, I just remembered that tonight is the last tribal council I can use this thing. So I plan on using it no matter what I hear. I don't need a souvenir when I can buy three thousand of them with the money I win.

"

–Nobo

Nobo approached Eli and asked who he was voting for tonight. He was caught off guard, but quickly said Alice.
"

Well, I don't care what's happening. I can either write down Alice, Steve, or Eli. I think Eli proved to me today that he is not worthy to be at the end. I know it may be stupid, because he is not really a threat, but if I want to be the best, I have to test myself against the best. Gosh if that's really as stupid as it sounds, I'm gonna hate myself for it.

"

–Nobo

Sonya and Nobo talked over voting for Eli, and they eventually agreed that it was his time.
"

Eli, despite his fatherly figure, has been trying too hard too late. It's his time.

"

–Sonya
Tribal Council #1
At tribal, Jeff asked Steve how it felt to have immunity. He replied with few words, but said something along the lines of it being one of the best feelings. He turned his concentration to Alice, and asked is she feels she deserves to stay. She said yes, because she has worked just as hard as everybody here. Jeff noted that it was a final five of all original Tanah members, and then proceeded to start the voting. After the votes were cast, Jeff was surprised as everybody else to see Nobo pull the idol out of his pocket. Negating all his votes, Eli was sent home.
Tribal Council 14: Kebakaran

Voted
Against
Voter

Nobo

Alice, Eli, Steve

Eli

Nobo, Sonya

Voted Off:


Eli
(Henzzy)
Voting Confessionals (1st Tribal Council)
"

Eli, you're like a second father to me. But you're holding us all back. It's high time you move out.

"

–Sonya
"

Nobo, you have been such a damn obstacle I was starting to think you were nailed to the ground.

"

–Steve
"

Haha Eli, Eli, Eli... Goodbye friend.

"

–Nobo
"

Sorry Nobo but I think you're time has finally come.

"

–Eli
Final Words
"

Well that was interesting. I thought for sure Elena took the idol with her. Regardless, I made it far. I'm proud of each and every one of those remaining and I wish them the best of luck. To do something like this is incredible, and it's harder than it looks.

"

–Eli
Day Thirty Eight
Refer to Immunity Challenge for Results.
Individual Immunity Challenge #1 Information
The final immunity challenge commenced, and the four remaining castaways remained in the competition for the first twenty or so minutes. Nobo was the first to drop out, feeling the pressure was too great in his legs. After another ten minutes, it was Alice who dropped out, leaving Sonya and Steve to duke it out. Steve was hanging on for dear life, and after thirty more minutes, Sonya let go, granting Steve another immunity win and a guaranteed spot in the final tribal council.
Kebakaran
"

Okay, I made it as far as possible... I have to pinch myself every few seconds. This is un-freakin' real! WOO-HOO!

"

–Steve

As Steve was celebrating, Nobo asked Sonya what she planned on doing.
"

I think I got the message across to Sonya. I hope she'll vote with me. She has never voted against me, so why start now?

"

–Nobo
"

Nobo really is a great kid. But do I risk sacrificing a million dollars to keep our friendship? Is it worth that much? Am I even risking the money? There are so many questions I don't know the answer to. This is the hardest decision I've ever had to make.

"

–Sonya

Before tribal, Steve wished Nobo luck, and told him that he should be getting two or three votes. Nobo said he knows, and they proceeded to tribal council.
Tribal Council #2
At tribal, Jeff asked Sonya what was her basis of her vote. She said it was between risking the money she doesn't know she can get regardless, and risking the best friendship she has ever had. Jeff asked what the friendship is worth, signifying that she was to weigh her options based on what meant more, not what she accomplished. He turned his attention to Steve, who he congratulated for the victory. He asked how it feels to be able to sit back and feel care-free, as the other scrambled through the last couple of days. He said it was a tension reliever, and he needed it fo the final tribal. Jeff instructed Nobo to start the voting. After he collected the votes, he read them, and it was a 2-2 tie between Nobo and Alice. This signified a sudden death fire making challenge, as is custom with a tie at final four. The challenge commenced, and Alice got the fire burning quickly, but couldn't keep it lit long enough. Nobo's fire was slow-burning, and rose heavily and got bigger. After only a few minutes, Nobo's string broke, sending Alice home.
Tribal Council 15: Kebakaran

First Vote (Tie)
Tiebreaker Challenge
Voted
Against
Voter
Participant
Finish

Nobo

Alice, Steve

Nobo

Win

Alice

Nobo, Sonya

Alice

Lose

Voted Off:

Alice
(137.118. 234. 255)
Voting Confessionals (2nd Tribal Council)
"

Nobo, you are seemingly impossible to vote out. What is up man? Just leave!

"

–Alice
"

Nobo, throughout this game you have helped me realize that friendships are everlasting, and money is not. I have chosen to vote with you, in hopes that we remain friends forever.

"

–Sonya
"

Please leave. Sonya, do what you know is right!

"

–Steve
"

I'm counting on you Sonya. No matter what, thanks for everything.

"

–Nobo
Final Words
"

Hey, it happens. I tried my best, and the fire wasn't on my side. Kebakaran blood runs through Nobo, and I wish the three of them the best of luck.

"

–Alice
Day Thirty Nine
Kebakaran
The three awoke to a glorious feast fulled with fruits, breakfast foods, and they ate to their heart's content.
"

I did it... I really did it. I surpassed all expectations. I was told I couldn't do it. But they were wrong. Despite all the obstacles, whether it be the people, or the things, the heavy tides, the big walls, no matter what it was... I overcame it. Now I only have one task left. This has been the best thirty nine days of my life.

"

–Nobo

Nobo sat alone for most of the day after the feast to not only think about what he wanted to say, but what he learned and how his life has changed.
Similarly, Sonya looked back at the adventure, and was proud of how she managed to take her own self-expectations, and blow them up with an atom bomb.
"

This experience is euphoric. I mean, how is it possible that I am here? Regardless, I have to think about how I can convince the jury that I played the best game I could.

"

–Sonya

Dusk settled, and before they headed off to the final tribal council Steve lit fire to the place they called home, and said it was rightfully going where it belongs; in the sand they walked.

They laughed light-heartedly to tribal, where their fates would be determined by the jury who they had a hand in voting out.
Final Tribal Council
"

Hello Steve, Nobo, & Sonya. Welcome to the final tribal council First off I'd like to say congratulations for making it this far. You have succeeded in outwitting, outplaying, and in turn, outlasting all the others to get here. But the power now shifts to the jury, the seven people you have known since day one, and may have had a hand in voting out. It is their job to determine who played the best game, and who deserves to win the million dollars and title of sole survivor. Let's bring in the jury... AJ, Adam, Sam, Temera, Elena, Eli, & Alice, voted out at the last tribal council... Okay jury, you are now in control of these three player's fate. You will vote for a winner. But first, let's hear an opening statement from the three finalists, and help make you're decision. Sonya, you can start.

"

–Jeff
"

Hey everybody. First off I just want to say thank you. Those words may have lost value since we've been out here, but truly, I am grateful. To have played with the likes of you is astounding, and I'm so glad that this group of people came together for an experience like this. You may not like how I played this game, but the hard truth is that I'm sitting here, and you're not. Sure, it's impressive if you get to this point living dangerously, but is that necessarily the smartest way? If I could have my way, it'd be the quiet ones who stayed out of the radar that would win every time. It is harder to stay quiet and keep your head down than it is to be a villain. And that's why I am going to answer all the questions you have with complete honesty. I have abided by that value since day one, and that is how I plan to finish this game.

"

–Sonya Jewls
"

Okay thanks Sonya. Steve, you're up.

"

–Jeff
"

Hey guys. Well, let me start of by saying that I'm grateful to be here. I got handed a fairly decent set of cards. However, the two beside me, both of them, were handed better hands than I was. I had to work harder at camp and in challenges. Yet I'm still here. I won three individual immunity challenges, a reward challenge, and I learned quickly how to adapt. When I merged, I had one goal in mind. At some point, I had to take out Nobo. And if I hadn't decided that Elena was just a big of a threat as Nobo, it would be Elena sitting here. I'll gladly answer your questions if and when you got 'em. Thanks!

"

–Steve Sixt
"

Last but not least, Nobo, go ahead.

"

–Jeff
"

Wow. This is unreal. I still have to pinch myself every few seconds. I have dreamed about being in this very spot since I was 7 years old. I'm the youngest one here. And I don't think you can deny that you weren't surprised. I almost left the game early on, from a stupid injury. But, I got through it, and that feeling catapulted me through to the end. I made friends along the way, and I continued to make big moves, and created and implemented strategy. I took lots of risks. Some of you might think that is was stupid and naive to give Elena the second idol as collateral for her trust. In the end, it's not stupid. I knew the consequences, but I so badly would rather be sitting here, and win, then be sitting over there. I want this more than anything else in the world. And my hard work definitely paid off. I don't want you to think about what I would do with the money, or how you think a measly nineteen year old would fare in the real world. I can assure you that I'm responsible enough to take care of myself. Just think about the game, and who had the most impressive game, that got them to the end. Thanks...

"

–Nobo Smith
"

Okay jury, you've heard from the three finalists. Now, I'll give you a few minutes to think about what you want to say, then it'll be up to you to address the jury as you please, and ask questions to help determine who you think deserves the million dollars and the title of sole survivor.

"

–Jeff
"

You've had a few minutes to think about what you want to say. Now, it's time to address the jury. AJ, you're up first.

"

–Jeff
"

Well I guess it's me who will break this ice! So I pretty much already know who to vote for. But just to be sure, Sonya, tell me the main difference between you, and the other two, and how you dealt with that difference.

"

–AJ
"

Well, obviously they are both men. I'm a woman. So if that's what you mean, I think I am even more grateful to be aligned with men, because they are much easier to work with than other woman. No offense guys... But yeah working with Steve and Nobo was different then if it were with two girls. I had to adapt to their thought processes, which are vastly different than my own. I hope that answered your question.

"

–Sonya
"

Thanks girl. Represent!

"

–AJ
"

Thanks AJ. Adam, you're next.

"

–Jeff
"

The three of you were together from the start, and stuck together. Yet you continue to talk about big moves. Tell me Steve, what was you're biggest move?

"

–Adam
"

Well, my biggest move was when I had to decide whether to vote for Nobo, or Elena. The way I see it, they are both big players, and I had the opportunity to get rid of one of them. Nobo and I collaborated before tribal and found out that Elena had told us two different stories. I could have either gone with Elena, and voted out Nobo, or gone with Nobo, and voted out Elena. In the end, I see more friends of Elena in the jury than Nobo's, so I made my decision based on that, and sent Elena home.

"

–Steve
"

But you are just one vote. How could you're one vote decide it?

"

–Adam
"

Well I was controlling Eli's vote at the time, and pretty much for the majority of the game, as a matter of fact. It only took two votes to change it.

"

–Steve
"

Okay, Nobo? Same question.

"

–Adam
"

Okay, well I think my biggest move was the most risky, but it paid off. I needed Elena's vote, and I had to ensure that I would get it. I couldn't take any chances of not getting her vote, but the idol was not the most important part of my game. So that was my biggest move, giving Elena the idol to trust me, then effectively voting her off with it two tribals later. And hey, even after she got voted off, she gave it back to me.

"

–Nobo
"

Thanks Nobo. I just have one more question. How is it that you plan to spend the money if you win?

"

–Adam
"

Adam, like I said before, you don't need to worry about me wasting it. I'm nineteen with my own lawn care business. I've made the right investments. I'm not a big spender.

"

–Nobo
"

Yeah but who would I feel better about giving a million dollars to? A nineteen year old or a twenty seven year old. Maturity definitely comes into play here. But that's it for me. Thanks guys.

"

–Adam
"

Ok Adam, thanks... Sam, you're up next.

"

–Jeff
"

Okay guys. I have no question that two of you played a great game. Some can respect the strategy of coattail riding, but not me. Sonya, I have nothing to say, because you're road here just doesn't feel genuine. So my attention is on you two. Steve, you were as strong as me physically out there. So you used mostly your physical strength to get to the end. And Nobo. Sure, you're no Cochran when it comes to frailty, but you relied a lot more on you're mental capabilities and brains. So in my eyes, it's brains versus brawn. Which of those two strategies is more effective? Well, I know that it takes a lot more strength to go through the game being vulnerable the whole way, and still being able to think straight. But tell me Nobo, why is brains more effective than brawn?

"

–Sam
"

I appreciate that Sam. Taking that strategy and implementing it is definitely a lot more difficult, because you're not safe from immunity the whole time. Steve won three immunity challenges post merge, which means that he was only in danger for four tribal councils. I had immunity once, so I was enduring the paranoia for six. Then again, I had two hidden immunity idols. So it really does just go back to what you truly believe is a harder route to take.

"

–Nobo
"

Okay Sam, you can take a seat. Temera, go ahead.

"

–Jeff
"

Okay, first let me congratulate the three of you for your job well done. You all truly deserve to be there. Now, unfortunately the same can not be said about declaring a winner. One thing I'm very impressed with is the age of you Nobo. You have outlasted a bunch of people who are much older than yourself, and you acted more mature than half of us. I've never seen somebody quite like you. Additionally, you played one of the best games, and you found two idols. I'm so impressed. Steve, yeah, you played a great game, but what you neglected to mention is that you hid behind Nobo's shadow, and even then you couldn't get rid of him. So before I sit down, I have one question for you Nobo. Why didn't you get rid of Steve, or even target him? He's a strong competitor, and is respected among us jury members.

"

–Temera
"

Thank you Temera. Well, to be honest, I wasn't ready to get rid of him. I knew that if I got rid of him too early, I would lose Eli, and possibly Sonya. So instead of getting rid of him, I tried my hardest to get rid of the people he was close with. In your case especially. After you two had planned to get rid of Sam, I knew he had acquired a new ally. And I had to commit to weakening him, and make it seem like I wasn't. It was a difficult balancing act.

"

–Nobo
"

Thanks Nobo. Good luck to all of you.

"

–Temera
"

Okay Elena, you're up.

"

–Jeff
"

My decision is already made up, but curiosity is getting the best of me. Nobo, you were inarguably in control for a solid portion of the game. But why did you choose to bring Steve? You could have gotten rid of him earlier.

"

–Elena
"

I forgot that he was a freak competitor, to be honest. I planned on targeting him at 5 or 4. But, he won both of the challenges, so he was stuck with me.

"

–Nobo
"

Simple enough answer for a simple enough question. Thanks and best of luck to you.

"

–Elena
"

Okay Eli, it's your turn.

"

–Jeff
"

Nobo, you think you are all high and might, but to be quite honest, I don't respect the way you played. You lied to us. Where is the honor in that?

"

–Eli
"

If I'm not mistaken Eli, the only reason you're where you are is because you and Steve got caught lying to me? You put my name down too. Don't try to victimize yourself because of your faults. Not to be rude, but your being a hypocrite. Not to mention, this is Survivor, where lies and deception is inevitable. If you came into this game thinking that everybody would tell the truth, than you must have gotten an absurd wake up call.

"

–Nobo
"

I'm done with you. I don't need to hear what you have to say... Steve, we were friends the whole game. I don't need to hear anything from you, because I already know all your strategies and your road to the end. Good luck.

"

–Eli
"

Thanks Eli. Lastly, you're up Alice.

"

–Jeff
"

Thanks Jeff, and congrats you guys. Nobo, firstly, I never got a chance to tell you that you got mad fire-making skills. I hate you for it, but nice job. But you three have to make up my mind for me. I honestly have no idea who I'm writing down. Tell me you're most favorite part of your adventure out here. Sonya, you first.

"

–Alice
"

I think the best part was when we all thought that Nobo was evacuated, and he surprised me on a beach. I thought he was gone for sure, and to hear his voice was just exhilarating.

"

–Sonya
"

How about you Steve?

"

–Alice
"

The reward I went on with my brother. He was in Iraq when I left, so I never got a chance to say bye. And to see him alive and well, and in uniform, was just a blessing. It really throttled me to get to the end.

"

–Steve
"

Okay Nobo, how about you?

"

–Alice
"

Well, now that I think about it, it's probably when Eli saw me find the second idol. I had already had one that Sonya knew about, so I wanted to keep it a secret. So I tailed the both of them for the next couple of days to make sure they didn't tell each other. In retrospect, it was really quite funny, but at the time, I was freaking out all the time.

"

–Nobo
"

Thanks guys that helped a lot.

"

–Alice
"

Thanks Alice. Okay jury, you've had a chance to address the jury, now it's time to vote. Remember, you are voting for a winner. Okay AJ, you're up.

"

–Jeff
Reading of the Votes
The jury went up, one by one, and cast their votes. As AJ, the last member to cast a vote, returned from the urn, Jeff took it and exited. Now, 6 months later, back in the United States, he is reunited with the jury and final three, readying to read the votes. After a short introuction, he grabs the urn and begins reading the votes.

Nobo jumped for joy as he became the youngest winner of Survivor ever, and being given the million dollar check by Jeff.
"

Thanks for an incredible season of fanon survivor, and be sure to tune in very soon for next season, Survivor: Rookies Vs. Veterans!

"

–Donosaurus rex
Still in the Running
Tanah

Dante

Alice

Betty

Sonya

AJ

Steve

Nobo

Samuel

Eli

Lautan

Tyler

Beverly

Sam

Temera

Elena

Sarah

Adam

Alex

Cassidy
Next Time on Survivor...
Ten previous contestants go to South Africa to try to find redemption against ten new players, all hoping to take away the grand prize and the title of sole survivor!